APPLICATIONS FOR ASSISTANCE
ARE YOU IN NEED OF ASSISTANCE THIS HOLIDAY SEASON?
 
The Christmas Bureau strives to make sure all families have an enjoyable Christmas by providing those in need with a full Christmas meal and gifts and toys for children.
 
Because we would like to help as many people as we can, we have certain guidelines for applications.  You MUST have ALL the following information with you: 
your photo identification, along with your Alberta Health Care Card for ALL family members on application
one month's recent bank statement
proof of income for all adults and proof of residency
We accept only those living in Red Deer, Red Deer County (please call to confirm county lines), Penhold and Springbrook.  Only those that meet the guidelines will be accepted for the program. 
 
WE DO NOT GIVE ACCEPT QUALIFYING INFORMATION VIA EMAIL, FACEBOOK OR PHONE. YOU MUST COME IN PERSON TO BE INTERVIEWED
 
For more information please call 403-347-2210
 
Toy Pick up will be from November 9 to December 18.  You will be given a date once your application is approved.  PLEASE keep this card and come on the date that was given so that we can keep with our schedule.
 
Food Hampers will be distributed on Monday, December 21 and Tuesday December 22.  Bring your voucher on those dates. *Note:  If you do NOT come to pick up your food hamper, you will be denied an application for the next 3 years! 
NO EXCEPTIONS!!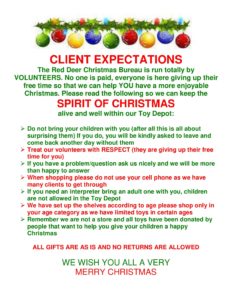 Here
 

are the new dates of our 2020 Season

INTERVIEWS START on Monday, November 2, 2020 and run Monday-Friday 9:00-4:00 until Thursday December 17, 2020
The FIRST DAY OF SHOPPING will be Monday, November 9, 2020.  The absolute LAST day for shopping will be Friday December 18, 2020